"The Shrinker" (a.k.a. Shrinky-Dink) has become one of my all-time favorite drinks. It's one of the yummy refreshments that are a part of Trim Healthy Mama and have been a big help to my losing weight.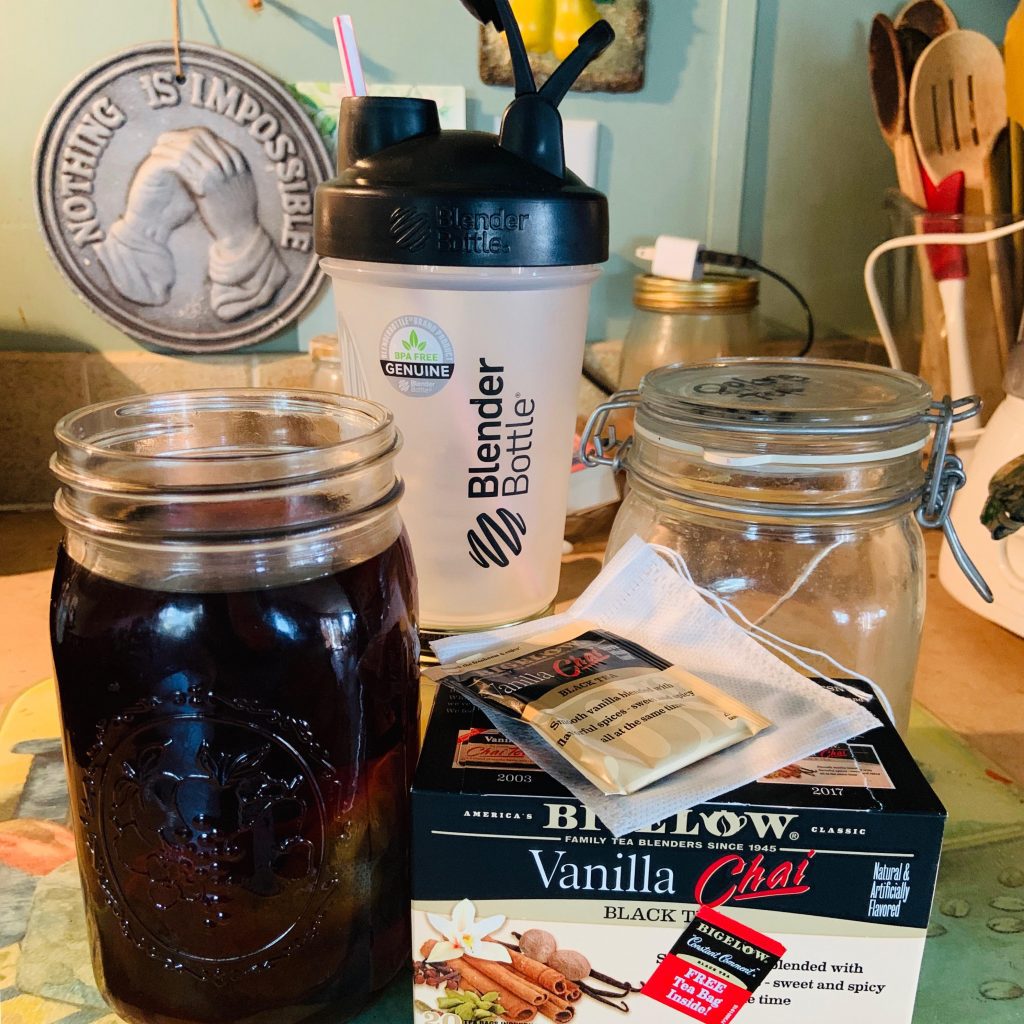 The Shrinker (<– catch the recipe at this link or down below) is made with Oolong Tea, Cinnamon, Almond Milk, sweetener, flavor extracts, and Cayenne Pepper. Yes, you read that right: cayenne pepper.?
I was skeptical at first, but I totally LOVE it! The cayenne does add a kick. There've been a few times that I wasn't paying attention and got too much (talk about fire-breathing dragons and smokin' from your ears! ?), but for the most part, if I pay attention, and only add a little, it's perfectly perfect.?

I usually add extra sweetener to spicy hot stuff, and The Shrinker is no exception. Sweet and hot makes it oh so savory to my tastebuds somehow. Since I'm allergic to Stevia, I most often use monk fruit powder from Julian Bakery to sweeten it. The little scoop (1/16th of a tsp, I think) in the container is just perfect. But you can use any brand of non-sugar. (Truvia, Pyure, Swerve –all at Walmart usually).

I especially love me some Shrinky-Dink when I'm feeling a little sick. The cayenne feels hot, but healing on a scratchy sore throat. The same for earaches and upset tummies. And nixing sugar altogether when the sickies hits is essential.
The original Shrinker recipe calls for ice cubes –which I do in the summer in my Ree Drummond quart drinking jar outfitted with a metal straw. But, I usually just go room temp in the winter, mixing it in my handy dandy shaker bottle (also from Wally World), and just sticking a plastic straw in it.
The Shrinker is awesome as a hot drink too! I sometimes have it as a coffee replacement in the mornings, as it does have a little bit of natural caffeinated energy in it.

Having something to drink between meals keeps my mouth occupied without having to stuff it all the time with food and it cuts cravings. And having it extra sweet (with sugarless sugar) satisfies my sweet tooth without rotting all my teeth and spiking my blood sugar.?

And Score!! Oolong Tea helps you lose weight. It really does Shrinky-Dink me!? It reportedly burns 67 calories per tea bag and boosts the metabolism. The cinnamon helps to stabilize blood sugar. And cayenne gives you loads of energy and is awesome for your heart and blood pressure to boot.?
For ourselves, we most often just buy Oolong Tea in bulk as a loose tea and keep it in a jar. But we've used this Oolong too. You can often find it at a health store as well. I usually make a quart at a time, using approximately 6 tsp (which would be equal to 6 tea bags) and boiling water steeped overnight. That makes two Shrinkers and then to stretch it 2 more days, I add 1-2 Vanilla Chai tea bags (walmart again) to the jar and steep overnight once more.
I love the Vanilla Chai tea in it. It makes it rich and dark and tasting even more coffee-like, especially with LorAnn Coffee or Chocolate flavor extracts.
---
Ingredients
1 cup brewed and cooled double strength oolong tea (2 teabags per cup)
1/4 cup unsweetened almond milk
2 pinches of mineral salt
1 teaspoon vanilla extract (or any extract that sounds good)
2 Tablespoons Truvia, Swerve, or 1 TB Pyure, or 1 scoop monk fruit
1 teaspoon ground cinnamon
1 pinch of cayenne pepper
Instructions
Add the brewed tea along with all the other ingredients to a blender or shaker cup.
Blend the tea until well combined.
Fill a quart sized mason jar (all the way to the top) with ice.
Pour the tea over ice. If there is more room in your glass, add a bit of water.
Enjoy!
Have questions? You can check out Trim Healthy Mama's FAQ here or feel free to email me at jordanscrossingherbs@gmail.com
---
Disclaimer: The statements on this page have not been evaluated by the Food and Drug Administration. These products are not intended to diagnose, treat, cure or prevent any disease. Keep out of reach of children. If pregnant, nursing, taking medications, or if you have a medical condition consult a physician prior to use.
---
This website is supported by your purchasing of our natural products. If you'd like to browse, you can visit: www.jordanscrossing.net/store