Description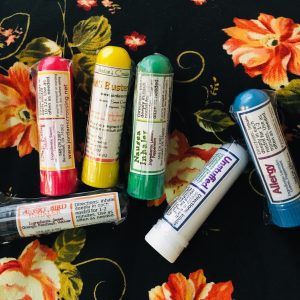 Inhalation is one of the most effective medicinal uses of Essential Oils. They are very nice to use as the scent remains in your own personal space, and doesn't bother or effect anyone else. By inhaling directly into the nose, the aroma goes right into the limbic system of the brain and from there into your bloodstream.
We can make Inhalers out of any oil that we sell. If it's not listed here, just order "custom inhaler" and leave a note for what kind you'd like.
Our Inhalers are made from the colors we have in stock at the time you order, and may differ from the picture.
_____________________________________
The purpose of Jordan's Crossing Herbal Connections is to promote the sharing of information about healthy, natural products and dietary supplements. JCHC's views and opinions are INFORMATIONAL ONLY and are not intended to constitute medical advice. If you are sick, injured or pregnant, please consult a licensed health care professional.