Okay. Let's talk bug spray. : )
There's plenty of un-natural bug sprays out there. Lots of chemicals involved. One chemical often included in bug spray formulas is called DEET. I can't remember what it stands for, but it's been proven to be dangerous in large doses and with long-term usage. Google DEET and you'll see what I mean.
Here's a quote from one source I was reading from:
"With heavy exposure to DEET and other insecticides, humans may experience memory loss, headache, weakness, fatigue, muscle and joint pain, tremors and shortness of breath. These symptoms may not be evident until months or even years after exposure. The most severe damage occurs when DEET is used concurrently with other insecticides….. frequent and long-term use of DEET… could cause brain deficits in vulnerable populations, particularly children."
Source: http://www.quantumhealth.com/news/dangers_of_DEET.html
Another website says,
"When you spray it on your skin, it gets absorbed and eventually enters the bloodstream. It pumps through your nervous system and has been proven to kill brain cells, causing neurological damage. If you have heavy exposure to DEET, you may experience memory loss, headache, fatigue, muscle and joint pain, and shortness of breath. Mosquito bites aren't looking so bad now, huh?"
Source: http://www.fitsugar.com/Bug-Spray-Dilemma-DEET-Really-Bad-1692380
Now, I'm really not tryin' to scare anyone or be overly dramatic. If used with caution and following directions to wash it off when you go inside, commercial bug sprays may be really helpful to those who are doing some serious woods time. But still, the chemical content and the damage it can do IS something we might need to be more cautious of, especially where our children are concerned.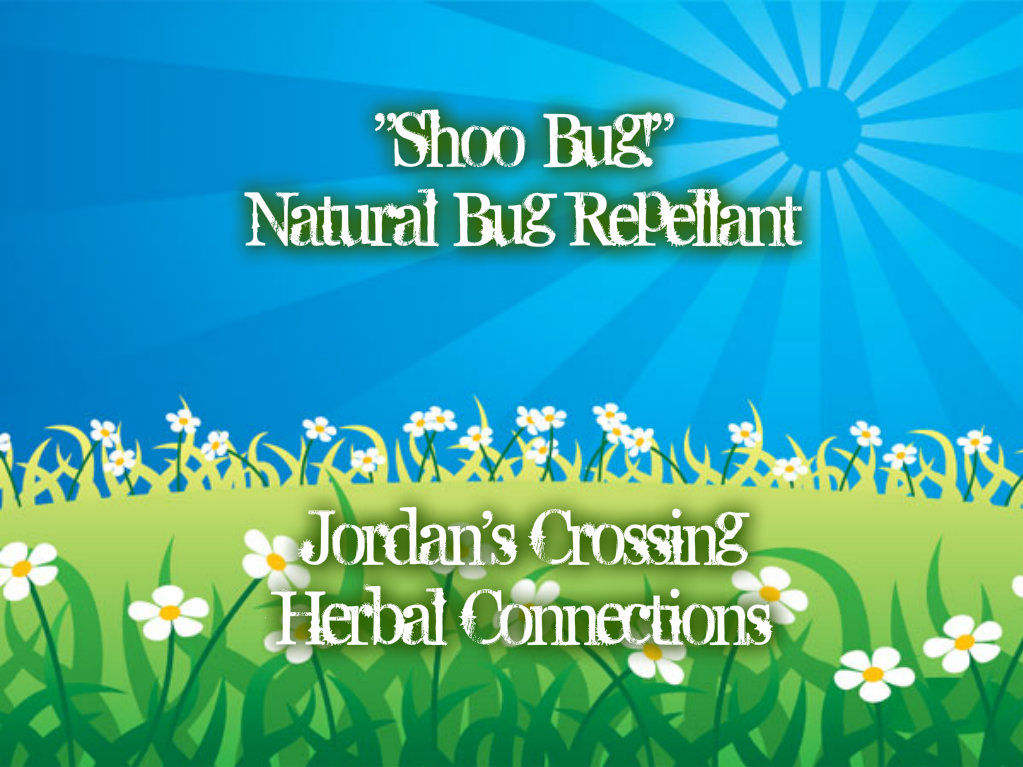 So… enter our "Shoo Bug!" bug spray. All natural. No chemicals. Won't lie to you– it's not gonna work as good as a bug spray with DEET. But, it won't be as questionable health-wise as a chemical-laden bug spray either, and you may apply this natural spray liberally and as often as needed without fearing side-effects.
It's made from lots of things that little buggies and ticks don't like such as witch-hazel, and essential oils of rosemary, clove, cinnamon, eucalyptus, tea tree, and lemongrass. Kinda has a woodsy-earthy smell with a hint of lemon. Use it outdoors on clothing and skin. Use it indoors on bedding and under beds and cribs to keep spiders at bay during the night. The only caution is to be careful not to get this in your eyes or your children's eyes.
We also have a "Repel Lotion Bar" which has many of the same bug-repelling oils. The spray and the bar used together can be pretty effective against skeeters when you're sitting around the campfire, spending a couple hours fishing, or out mowing, doing yard work, or a dozen other things.
We're gonna be at Big Heart Days in Barnsdall, OK this Saturday, May 24! Come say hi! : )
________________________
The purpose of Jordan's Crossing Herbal Connections is to promote the sharing of information about healthy, natural products and dietary supplements. JCHC's views and opinions are INFORMATIONAL ONLY and are not intended to constitute medical advice. If you are sick, injured or pregnant, please consult a licensed health care professional.