We are gearing up for the Owasso Harvest Festival this coming Saturday, October 24th! It's in Rayola Park which is located at 8300 Owasso Expy, Owasso, OK 74055, near the YMCA. If you're near Tulsa, punch it into the gps, and stop in and see us! We'll be there from 11am to 4pm, rain or shine (hoping for shine tho. lol).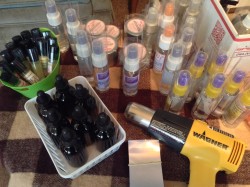 Time to begin thinking about Christmas too! We'll have an assortment of gift baskets made up and available. Headache pillows make awesome gifts as well, as do many of our products.
Of course, as always, everything is natural, and made with wholesome, healthy ingredients, and handmade by us. 🙂
We accept cash, local checks, and can do PayPal.
Hope you'll stop by if you're in the area!
?