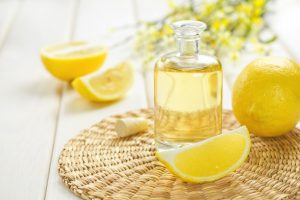 EO Profile: Lemon
Botanical name: Citrus Limonum
Botanical family: Rutaceae
Common method of extraction: distilled & cold pressed (with cold pressed being superior to distilled)
Plant part typically used: Peel
Oil color: Clear, pale yellow to deep yellow
Oil consistency: Thin
Perfumery note: Top
Strength of initial aroma: Strong
Aromatic description: Citrus, fresh, fruity, lemony, sweet
Shelf life: 2 years
Therapeutic Properties: Analgesic/Pain Relief, antibacterial, antidepressant, antioxidant, antiviral, astringent (shrinks pores and removes oils), cooling
Possible Uses: Athlete's Foot, colds, corns, dull skin, flu, oily skin, varicose veins, warts, supports immune, stimulates lymphatic, expels worms, anti-tumor
Emotional Uses: Depression, emotional tension, happiness, positive energy
Method of Expulsion from the body: Liver & blood
Major Constituents: Limonene, B-Pinene, y-Terpinol, x-pinene, geranial, etc
Chemical Family: Monoterpenes
Blends well with: Cedarwood, lavender, clary sage, citrus, basil, oregano, rosemary, thyme, eucalyptus, fir needle, pine, tea tree, clove, frankincense, ginger, myrrh, vetiver
Fun Facts: 3000 lemons to make 2.2 lbs of oil. Lemons are harvested green in order to produce a higher quality oil.
Safety info: Essential Oil Safety recommends max dermal dilution of 2% for adults.
Pregnancy and Labor? Yes.
Breastfeeding? Yes.
Infants under 2? No.
Children 2-6? Yes.
Pets: Dogs? Yes. Cats? No.
Phototoxic? Yes. (don't go out in the sun with lemon oil on your skin)
Internal? Yes, but with guidance from aromatherapist trained in internal usage.

Sources for info: Essential Oil Safety by Robert Tisserand and Rodney Young, pp 330-331; Heart of Aromatherapy by Andrea Butje, pp 74-75; Liberty Natural MSDS report on the internet, citing Sylla Shepherd-Hanger; Mountain Rose Herbs (fun fact); and other various trusted sources.
---
This website is supported by your purchasing of our natural products. If you'd like to see what we sell visit www.jordanscrossing.net/store
---
Disclaimer: The statements on this page have not been evaluated by the Food and Drug Administration. These products are not intended to diagnose, treat, cure or prevent any disease. Keep out of reach of children. If pregnant, nursing, taking medications, or if you have a medical condition consult a physician prior to use.
---
Remember: never use Essential Oils undiluted, except in an emergency.