Cooler weather and Hot Chocolate just seem to go hand in hand. For a long time, I've searched for a good homemade hot choc recipe that wasn't loaded with white sugar, high fructose corn syrup, and other synthetics and preservatives. Well, the other day, I was looking through an old cook book from the depression era for something having nothing to do with hot chocolate…. and voilá! There it was staring me in the face. And the recipe was sooo simple. I had everything in the cupboard! So I jumped up and went and made some real fast… and then indulged myself accordingly afterwards. 🙂 I knew then that I wanted to make some up for Jordan's Crossing.
So here's the recipe we came up with; the ingredients are natural and uncomplicated:
3 Cups Instant Powdered Milk
which you can find in any grocery. You can probably get a healthier powdered milk in a health food store, but we don't have such a store close to us. You also might get a better flavor from a name brand powdered milk, but I just used the generic I had on hand, and thought it tasted grand.
1/3 heaping Cup Cocoa Powder
I used Nestle Toll House cocoa powder. You may prefer Hershey's or Ghirardelli. I've also made this with a dutch chocolate powder which is dark chocolate and less acidic than regular cocoa- most yummo, in my humble opinion.
1/2 Cup Cane Sugar
I used Florida Crystals Raw Cane Sugar. Sugar in the Raw would be a similar product. Easy to find in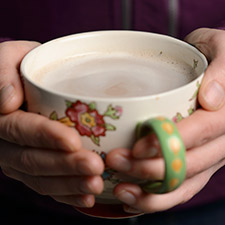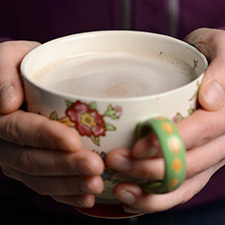 groceries. Yes, this is much more expensive than white sugar, but if you're trying to make changes to your sugar consumption, and to begin eliminating refined foods, this is the place to start. White sugar is ultra-refined, therefore it goes into your blood stream almost immediately, and it has a very addicting quality much like a drug. Raw Cane Sugar is less refined which means it has some of the molasses still in the sugar (which is why it's brown) which means it enters the blood stream somewhat more slowly and takes longer for the body to break down. This is a good thing. However, even with that said, sugar is still sugar, and should be used wisely and moderately. This is why I actually only used half the amount of sugar that the recipe originally called for. For me, the reduced sweetness was just right bringing out the flavor of the chocolate and making the whole thing more savory and less of a sugar buzz than store-bought hot chocolate. But others of you may prefer to add more sugar to the recipe or to your cup. (I've also made this recipe with Coconut Sugar- you can find it at walmart- which is a completely unrefined sugar, which is about as healthy as you can get. But still, learn to think moderately where sugar is concerned).
1/2 teaspoon Salt
A mineral salt like Himalayan Pink Salt would be awesome to use, but even a regular Sea Salt from the grocery is better than just table salt.
Here's the recipe in a nutshell:
3 Cups instant powdered milk
1/3 Cup cocoa powder, heaping
1/2 Cup raw cane sugar
1/2 tsp salt
Mix it all together in large bowl and store in a covered container in a cool place. When ready to use, heat water to full boiling. Place 5 Tablespoons or more of mix into mug. Add water slowly being sure to mix thoroughly so that the cocoa is completely dissolved. Enjoy!
Ok. So. Now, let's talk butter for just a second….. Butter? Butter …in hot chocolate?? Yepper! It's true. 🙂 It has to be real butter tho', not margarine. Margarine is full of chemicals and bad for you. Real butter is full of saturated fats which are good for you. And real butter in your hot chocolate adds a dimension of deliciousness that's unexpected and wonderful. Add a teaspoon to your hot chocolate and stir 'til it's melted. Try it! You'll like it! And if you're really adventurous try adding a spoonful of coconut oil also. Very healthy and very yummy! Trust me. 🙂
Well, that's it for now. For those of you not wanting to mess with mixing up the recipe, we'll have some of our Healthy Hot Chocolate Mix available at the Market this Saturday. This is our next to last week down there. Come see us! If you can't make it, visit us Online. And if you're in the area, come visit our little store in Barnsdall.
Happy Hot Chocolate season to y'all!!