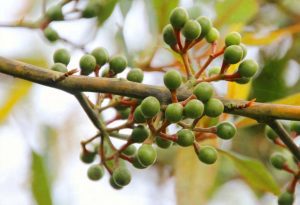 ---
EO Profile: May Chang
Name of Oil: May Chang
Botanical Name: Litsea Cubeba
Botanical Family: Lauraceae
Countries of Origin: Native to Southeast Asia (Taiwan, Indonesia, & China)
History of Oil: '"Litsea Cubeba has been used throughout history in traditional Chinese medicine to treat digestive problems, muscle pain, asthma, chills, and backaches. It was also widely used as an antispasmodic to treat asthma attacks. The essential oil was not introduced to the Western world until the 1950s when it became a competitor of lemongrass…. It then began to be widely used in fragrances, flavorings, and soap." (Monq.com)
General description of plant habitat and growth: "Litsea cubeba, ..is an evergreen tree or shrub 5–12 meters high in the family Lauraceae. …It is called "mountain pepper" in Mandarin… It produces a fruit which is processed for its lemony essential oil. The oil can also be extracted from the leaf, but this is considered to be lower in quality. (Wikipedia)
Plant part typically used: Fruit
Common method of extraction: steam-distilled
Oil color: Pale Yellow
Oil consistency: Thin
Perfumery note: Top-Medium
Strength of initial aroma: Strong
Aromatic description: Sharp and intense and has a complex citrusy/grassy/almost-flowery aroma
Shelf life: 2 years (LibertyNatural CofA) 3 years other sources
Organoleptic Description (personal uses): This oil just makes me happy. I mostly use it for perfume, blended w more sedative oils to counterbalance drowsiness and keep me awake. It also calms my nerves and helps with PMS-type hormonal symptoms. Great to mix into deodorants. Helps me breathe too. Mixed with Oregano oil, diluted and rubbed into the abdomen eliminates bloating and gas.
Therapeutic Properties: antiviral, anti-bacterial, antifungal, antiseptic, antispasmodic, astringent, carminative, hypotensive, stomachic
Physical Applications: Oily skin care, acne, perspiration, indigestion, lowers blood pressure, energizing, respiratory (colds, bronchitis, asthma, etc), athlete's foot, muscle pain
Emotional/Mental Applications: Uplifting, promotes sense of overall well-being, tonic to the nervous system
Key Uses: Calming, cheering, energizing, digestive and respiratory
Method of Expulsion from the body, if known: no info found
Major Chemical Constituents: Geraniol 37-41%, Neral 25-34%, +/-Limonene 8-22%
Blends Well With: basil, black pepper, bergamot, cardamom, clary sage, clove, frankincense, geranium, ginger, lavender, lemongrass, marjoram, oregano, petitgrain, rose, rosemary, vetiver, Ylang Ylang, and all citrus oils.
Fun Fact: May Chang timber is sometimes used for making furniture and crafts..The root and stem of the plant are used in Chinese medicine. It is also used as a spice.
Safety info:
Pregnancy and Labor. No (This oil is teratogenic—causes possible birth defects)
Breastfeeding. No
Infants under 2. No
Children 2-6. No
Pets. No info found
Phototoxic: No
General safety info: This oil may interact with certain diabetic drugs, may cause skin allergies, and is potentially teratogenic.
Sources for info:
Essential Oil Safety, Tisserand & Young, pp349-350, Aromaweb.com, and other trusted sources on the Internet as noted.
---
This website is kept uncluttered and lovely by your purchasing of our natural products. If you'd like to see what we sell visit www.jordanscrossing.net/store
---
Disclaimer: The statements on this page have not been evaluated by the Food and Drug Administration. These products are not intended to diagnose, treat, cure or prevent any disease. Keep out of reach of children. If pregnant, nursing, taking medications, or if you have a medical condition consult a physician prior to use.
---
Remember: never use Essential Oils undiluted, except in an emergency.