Lol. The title sounds so uppity and posh, however, it's no secret that JsCrossing is a small (teeny tiny) company. It's mostly just little ol' me (Mary) doing all the things. We don't have any paid employees. We have family and friends who help us out occasionally, but that's pretty much the extent of it. 90% of it is done in our JsCross room (aka, the back bedroom) where we have shelves for our supplies as well as tables to work on. The rest is accomplished in the office at the computer, printing labels and packaging the product.
For those of you who buy oils from us, you will notice that our bottles don't seem quite full. We, of course, don't have any fancy machines or production lines to fill our bottles precisely, but we do have these handy-dandy, glass, test-tube-like cylinders with measurements on them. So, even though the bottles don't seem full, customers are getting the full amount of essential oil on the label. It should be noted too that basically the essential oil bottles we use hold an extra milliliter or so–another reason it looks like you're not getting a full bottle of oil. Since we're essentially eye-balling the line on the measuring cylinder we try to always err on the side of going slightly over the mark to be certain you're getting the full amount.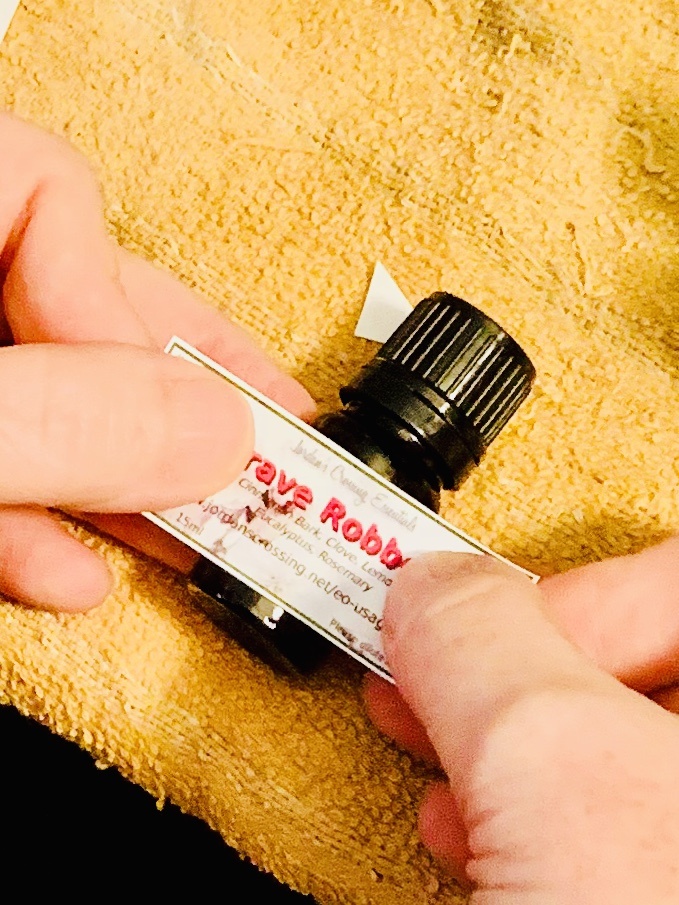 Labeling is also done by hand, hence there's times when the labels go on crooked. Not kidding–it's a lot harder to get a label on a bottle straight than you would think! In fact, I looked it up on youtube to get ideas to help me learn to do it. Essentially, you lay the bottle down and put your two middle fingers on the bottle and lay the label over it and it goes on straight. Well, not always, but more times than not. Sort of. Lol. So, do forgive us if you get a deformed label.
Lastly, a word also about cleanliness: I don't always wear plastic gloves when I'm working with oils, but I try to, which is mostly for my own safety as well as a concern for cleanliness. It's not unheard of that a bottle will spill or that the oil will drip out when filling a bottle. There's been many occasions that I've been pouring something and it will back fill and run all over my hands. Since using EO's neat (undiluted) is unwise because they are so concentrated and there's a risk of allergic reactions and even burns, we treat them with respect as potent herbal meds (and not just happy smells).
When I don't have gloves on, I try to keep my hands as clean as possible. In addition to washing them frequently, I spray them often with our germaphobe or other EO spray as well. I do this at our booth when we're vendoring as well. I'm not really a germaphobe and full of anxiety about what germs I may get, but I do want to sell a clean product. (This was something we did prior to 2020 and not something new that we implemented because of the pandemic). I want to receive clean products from the people I order from, and am grossed out when not, and so the golden rule comes into play. "Do unto others as you would want them to do unto you."