I confess, I've been indulging in this alot since the weather has finally turned warm and stayed there. It's become my favorite lunch lately, but I've also made smaller amounts for afternoon and evening gratification. It hits the spot for …well, everything. Lol. I've had a hard time figuring out what to name it. It's actually more ice-cream-like, but since i use it as a meal, I'm sticking with "smoothie." You can change up the add-ins or not add anything, if you don't want. I would recommend the cauliflower at least though, as it makes it very creamy. If you want to be really indulgent, add a couple TB's of half and half, but I save the calories and don't usually. If I want it a little sweeter, I'll add a little more monkfruit.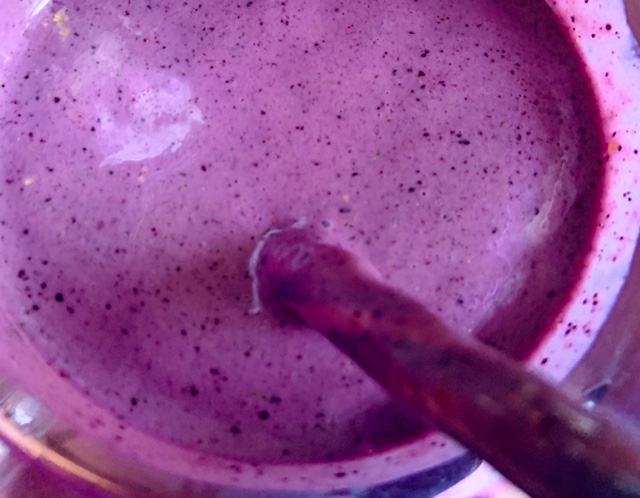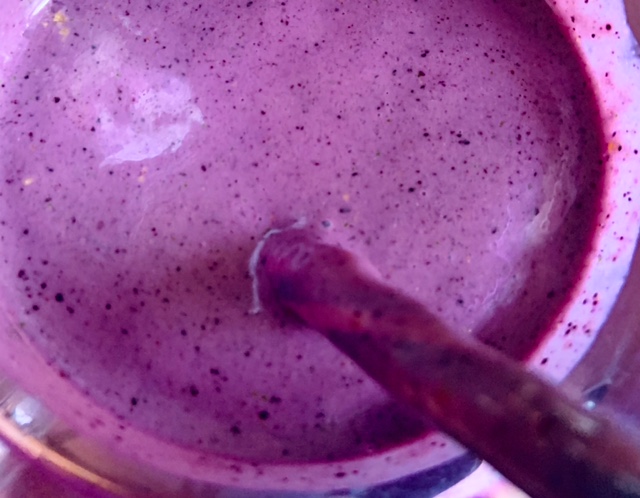 ---
To make a large glass (like in the picture), add to blender:
1 Cup Almond Milk
1/2 Cup Cottage Cheese
1/2 Cup frozen cauliflower (riced is easiest on the blender)
several pieces of frozen okra (optional, but healthy–don't get too much or it'll be slimy)
a small handful of spinach or lettuce (optional, but healthy–don't get too much or it'll be bitter)
1/2 Cup frozen blueberries, strawberries or mixed berries
1-2 TB of no-sugar peanut butter
2 TB Truvia or my sweetener
a pinch of salt
1/2-1 Cup ice (crushed is easiest on the blender)
a large pinch of xantham gum sprinkled over the top (optional)
Add all to blender and mix until blended, then blend an extra minute or so for additional thickness. If you don't have a good blender, you might want to leave the okra out as it can be a little mealy-textured.
---
This would be a THM S meal, or you could sub Peanut Flour for the peanut butter to make it a Fuel Pull, but it will have less of a PB punch to the end result. For an E meal, use may use any fruit other than berries with the peanut flour.