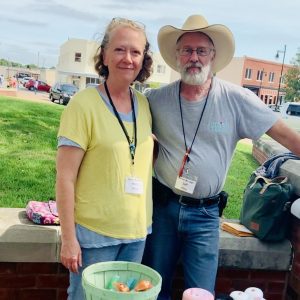 Hello there, Welcome to Jordan's Crossing, a small family business with a heart to help others. If you're into nutritious food, less chemicals, and natural possibilities for overcoming what ails you and your family, you'll feel very much at home with us. We're  folks who are looking to feel better, think better, and eat better without breaking the bank.
I'm Mary, a certified aromatherapist and natural health counselor, and I'm the main author on our blog here. My husband is Jeff, who's pretty much a behind the scenes kinda guy, yet vital to everything. We're pretty eclectic. We've discussed everything from diabetes to shingles to insomnia to going gluten free, hormones and more! We share healthy recipes, thoughts on using herbs as medicines, and articles on the natural products we make and sell, and of course…. much more!

Our business, Jordan's Crossing Herbal Connections, started in 2013, but we've been doing the natural thing for about 30 years. As a child, my grandmother taught me much about plants and herbs, and so it just became the norm for me to think in that line. As our children grew, we learned how to treat our family's illnesses naturally and to make our own teas, tinctures and salves.
All the things we share about and sell are remedies and products we ourselves have used over the years or still do. We share out from our own experience and what has worked for us. That's true of the spiritual thoughts we offer too. I had a stroke at the end of 2013 due to a negative reaction to chemicals, and so we talk alot about trials and God's work in our hearts through them. Thankfulness and Mindfulness are big themes too.

We also talk some about Trim Healthy Mama and my 100+ lb weight-loss journey. Getting to a healthy weight is so key to all things health. I share about that the most in our Healthy Healing Newsletter (which you can sign up for in the sidebar —>).

Our prices are affordable and our products are long-lasting. We want you to be able to AFFORD your health.

We have two grown children, two grown children-in-law, a couple "adopted" children, and EIGHT not very grown yet grandchildren. So far. (Being grandparents is pretty awesome!). All our kids and their spouses help in Jordan's Crossing in various ways.
We hope you enjoy browsing around our site. Don't forget to stop by our Facebook Page or to join us on Instagram. Or, stop by Soundcloud to hear some spiritual lessons.

As of October 1, 2023, we no longer process orders from our website, primarily focusing on local sales, pick up, and delivery.  However, if  you would like to order something, you can email us at JsCrossing@proton.me
You can find our products local at a terrific little store called The FARMacy Barn to Market in Ochelata, Oklahoma