THIS​ ​ WEEK'S
THOUGHTS​ ​ AND​ ​ THINKINGS


I'm not for a second going to try and pass this off as something that I know what I'm doing. Not for a second. Lol. I used to publish a newsletter, hmmm (gosh, is it possible?) 20 years ago, but times, as well as the Internet, have changed greatly since then. So, here I am, starting essentially from scratch and winging it totally.

I've been feeling for a while now that a newsletter was a direction to go with Jordan's Crossing. We're so eclectic, covering many topics of thought, and I was feeling we could maybe better bring that all together in a newsletter format. Anyway,​ ​ I'll​ ​ just​ ​ share​ ​ what's​ ​ on​ ​ my​ ​ heart​ ​ and​ ​ in​ ​ my​ ​ head,​ ​ and​ ​ we'll​ ​ see what​ ​ happens as we go along.​ ​


To start with, I've some confessions to make.... I'm not a nutritionist, herbalist,
medical professional, health coach, aromatherapist or any other "official" somebody. I'm a mother and grandmother who loves herbs, who's done much reading and research, who's gained lots of experience and wisdom over many years with various health topics.


I've had lots of my family's health issues to wade through over the years, including my own-- the most recent of which is a stroke that happened almost 3 years ago now. I have battled high blood pressure, diabetes, obesity, and myriad emotional and spiritual issues with God's help. This newsletter and website is just me sharing out from all of that.


I'll totally understand if me being a nobody makes you wanna bail on this newsletter thing right now. No hard feelings. But I did want to make that plain, up front, before we go any further.


So, a few things i wanna share this time.....
I went gluten free first and dropped a bunch of weight, then stalled for a year. In wanting to get healthy, I was praying for an answer and "happened" onto Trim Healthy Mama.


Since March, in addition to the 20 lbs, my blood pressure is down, and my diabetic numbers are down into pre-diabetic ranges. I still want to see my body heal
My Weightloss Journey: TRIM HEALTHY MAMA

further and get down into norms for all three: weight, bp, and blood sugar.


this plan, or just type in THM and you'll find loads of links. Trim Healthy Mama isn't a "diet", but a sustainable, doable lifestyle for those who want to get healthy and feel better. (I intend to be on this the rest of my life).


The weight loss is simply a wonderful, happy side effect.


I'm here to answer any questions, so go ahead, ask away if getting healthy by losing weight intrigues you. Talk to me about your own weight loss and get-healthy want-to's.


Product Spotlight:
LOTION BARS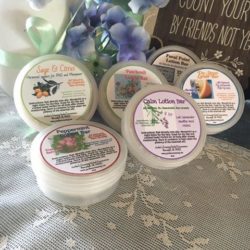 Lotion bars are pretty awesome! We make our bars out of coconut oil that's been melted together with beeswax and poured into a mold. Once it cools and sets, you have lotion that you can pick up in your hand instead of something that comes from a pump bottle.


Coconut oil's benefits are too many to mention here, but over time, it can help to prevent wrinkles and saggy skin. I've been amazed at how much my 50ish (ahem.. 35ish..) skin looks softer and younger and less wrinkly since I've been
using our lotion bars on my face nightly. I've also noticed that I don't have near the problem with dry mouth at night. I believe that's cuz the beeswax provides a protective coating.


Lotion bars are also great for cracked heels and rough elbows, to keep "dust" off your legs, and fingertips and cuticles in shape. And of course....those wrinkles. (ahem).

Our lotion bars are scented​ with​ various essential​ oils for various added health benefits and then packaged in handy-dandy plastic container that's perfect for tucking into your purse.



Or​ ​ if​ ​ you​ ​ can't​ ​ make​ ​ it​ ​ locally,​ ​ you​ ​ can​ ​ order​ ​ online​ ​ at
www.jordanscrossing.net/store. Just click the button.
Spiritual Ponderings: The Shack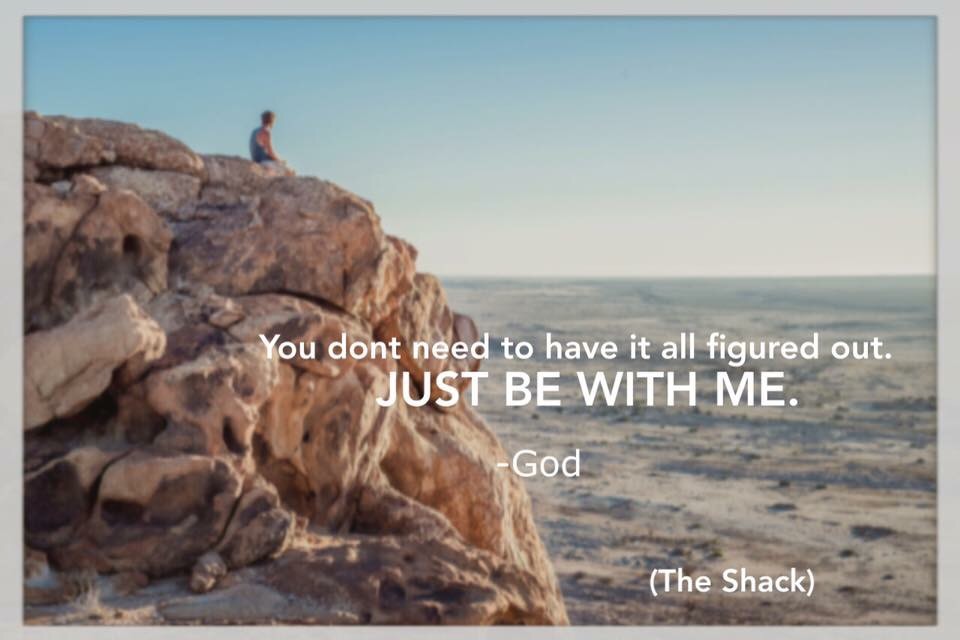 The movie The Shack has been a recent encouragement to me spiritually. If you haven't seen it, I highly recommend it. I know there's a lot of doctrinal debate about it, and it will def challenge your concept of God for sure. But how we see God is so often as an ogre who does what he does out of anger rather than a God who is Love willing to walk through
the messy, painful, hurting places in our hearts and lives caused by ourselves and others. If you've ever struggled with "religion" and pain and questioning God, even being angry with him, then this movie might hold some answers. (The book is even better, if you're into reading).


Here's one BIG thing I took away from the movie and the book: God's motive is always more closeness to us, not the obliteration of us. Our daily deaths (spiritual), the hardships we face, the pain allowed to us is merely the means to the end for God. And that end, in his eyes, is to GAIN our hearts, and to heal us, not push us away so he can maintain his position as the Big Meanie in the sky.


Just taking time to BE with him can heal so many things in us.
You're receiving this email because you: 1. Ordered online from us 2. Signed up at an event 3. Subbed online. If you'd rather not receive it, then you can Unsubscribe here.

Published from Barnsdall, Oklahoma 74002
Copyright © Jordan's Crossing 2017