THIS​ ​ WEEK'S
THOUGHTS​ ​ AND​ ​ THINKINGS


I don't really have a set plan for how often to send out a newsletter to you. Every couple-three weeks as time allows. I like to stay busy and focused because it's way too easy to be un-busy and un-focused. And since I don't leave home often, all that's left to do in such case is ..dishes and cleaning. (Oh joy
). Writing is much more fun. :)
In the first issue, I mentioned that I was a nobody. Well, I'm glad to report I've upgraded to a somebody now. Just completed an online herb course that qualifies me to, more or less, be a health coach now. Even have a certificate sitting on the shelf. Woot woot!
I don't feel any different than I did a few months ago when I started the course, but the certificate says I'm different, so it must be so. Lol.

It's all a matter of perspective in this world, I guess. Schooling and pieces of paper are valued, but hands on, every
day, practical experience and wisdom isn't so much. I feel I've learned much more by my own reading, research, and trial and error over 30 years than from 8 months of schooling and a few tests.
That's not at all to say there's no value at all in schooling. (I just signed up for an aromatherapy course next). Yet, however much the book work is interesting and profitable and helpful, I still guess that I wouldn't say it's what makes one an experienced, capable expert by any means.
So..... now that I'm somebody, I find I'm really still a nobody at heart. Lol. I'm happy there. Hope y'all are happy where you are too. :)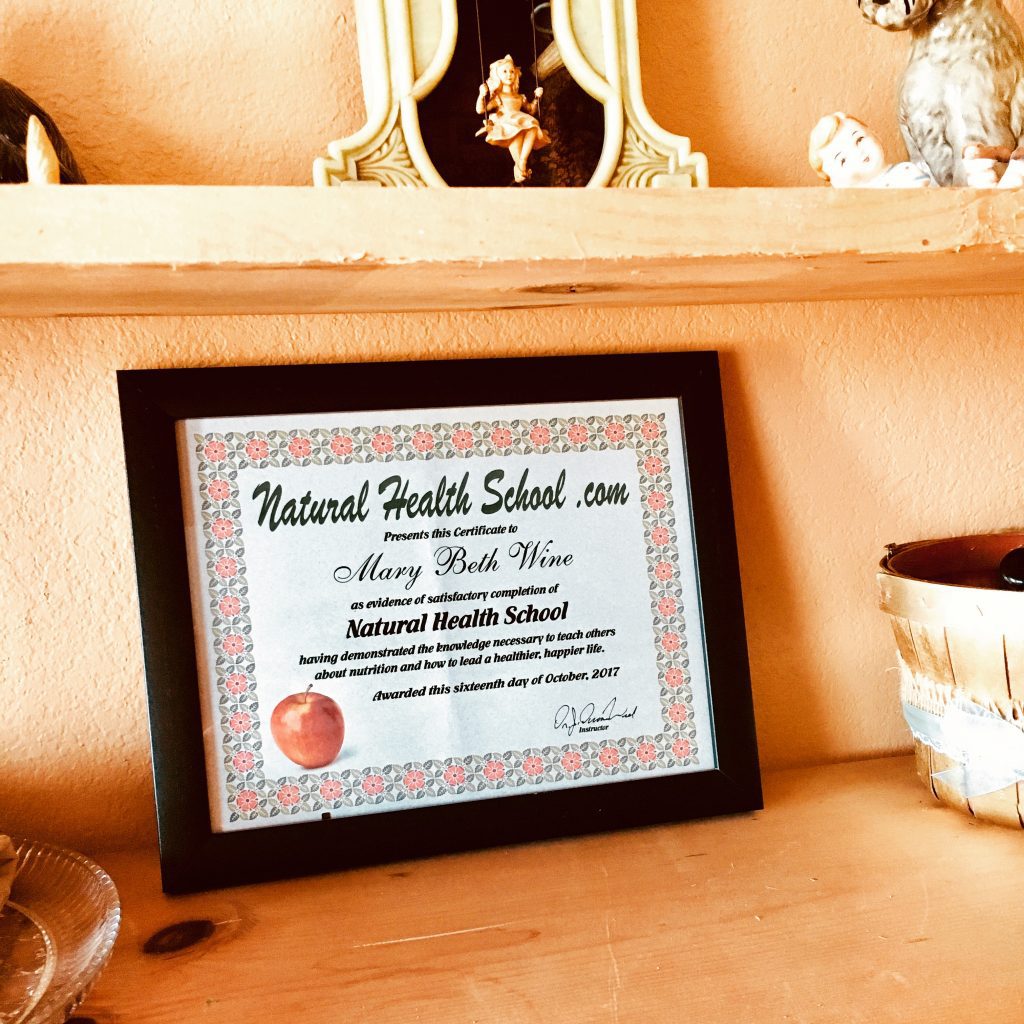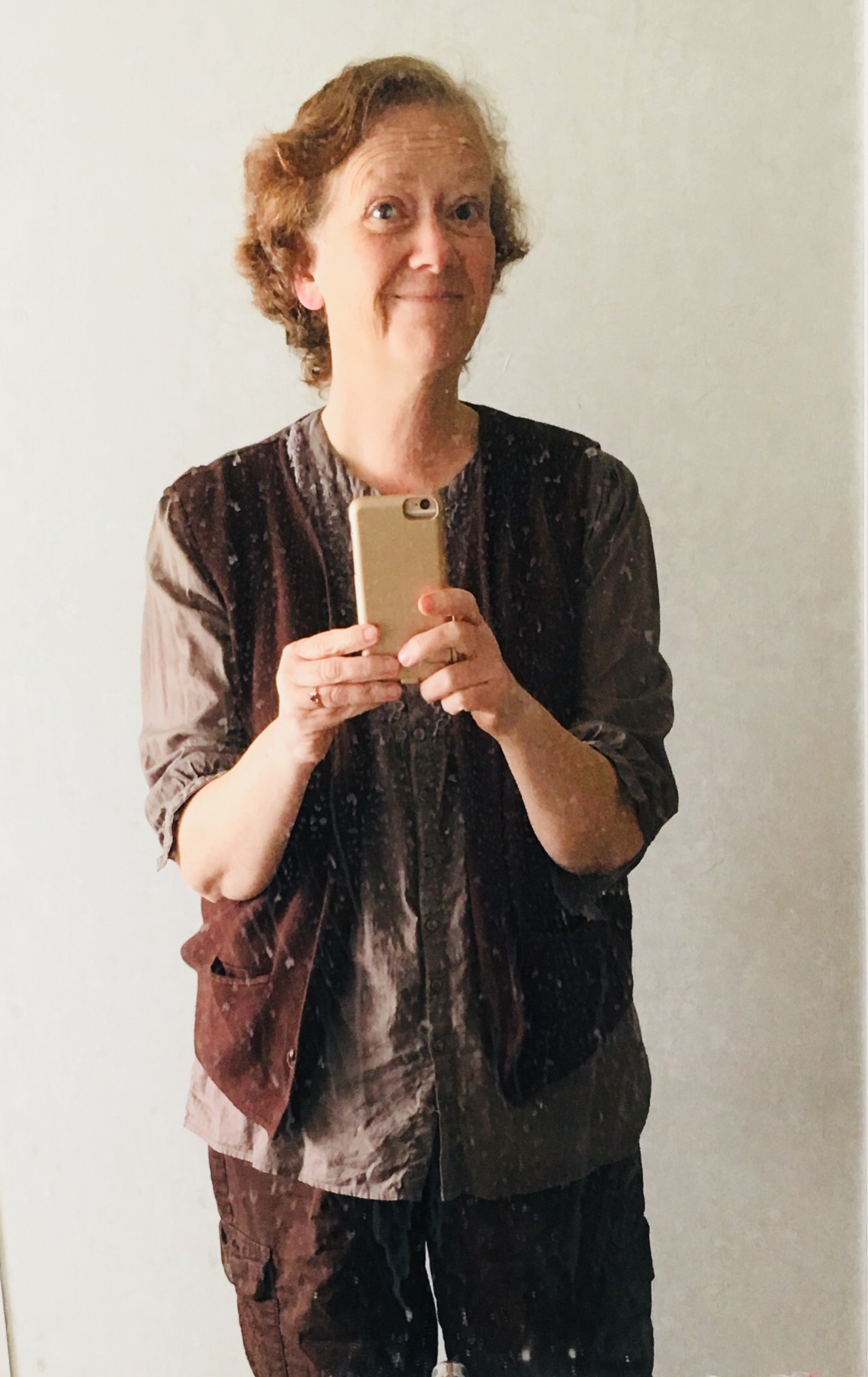 I hit 174(ish) this last week. :) I don't know what the best rate to lose weight is, but I think 1-2 lbs a week would be prime. And I'm pretty much on target with that. Staying in that range will help me later to actually keep the weight off. Besides, losing too fast would make me have to replenish my wardrobe too often...which gets expensive even at thrift stores (albeit, I admit it's quite fun lol).
Trim Healthy Mama discourages concentrating on the scale too often. There's a lot of people (in the Facebook groups) who haven't lost a pound, but are losing inches and sizes. My weight can fluctuate by 5-6 lbs around 'that' time of month, and if I'm retaining water, which I have troubles with occasionally (especially when I'm not walking enough), it can be 7-8 lbs higher. So, the scale does deceive.
Beyond that, all our bodies are different. We all have different levels of healing to do. And that includes mentally. Sometimes our need is to pin point wrong thinking in our food habits which makes all the difference in our success with the weight coming off.
Weight Loss Journey: TRIM HEALTHY MAMA
A friend who's doing THM shared some of her recent revelations about eating. She said, "All this time, maybe my whole life, I have thought the satisfied feeling was hunger, and the STUFFED feeling was being satisfied."
Now that she's got that figured out, she can adjust her actions and re-teach her body to respond to correctly.
Learning portion control is definitely needful. I say that because of watching my blood sugar since starting THM. My blood glucose numbers still haven't dropped all the way into the normal range yet. And since I'm no longer on diabetes meds, I watch it carefully. The pattern I've def seen in myself is that when I overeat my blood sugars stay high. But, if I'm more moderate about how much scarfing I do, then my sugar stays at a much more healthy (and lower) number. And on THM, the whole key to losing weight is to get control of blood sugar.

However, I've noticed that I can, every now and then, cheat and eat something with sugar or even go out for Chinese occasionally and not have it spike on me. But only if (IF) I'm careful to NOT pig out and let myself get to feeling too full.
I'm finding more and more that the hungry/empty feeling is a good place. It's actually a place of energy. Focusing, clarifying. Cleansing. When I feel too full, I'm more sleepy and lethargic.
So anyway, if you'd like to learn more about Trim Healthy Mama, and how to lose weight, I'd be happy to answer any questions. You can email me at:
jordanscrossingherbs@gmail.com
Product Spotlight:
Water Kefir & Kombucha
This isn't one of JsCrossing products, but it is one I use regularly and wholeheartedly recommend. Kevita brand Water Kefir and Kombucha.

Our grandkids call it 'juice-pop' cuz it's fizzy like pop. They love to drink it and I love that they love it. It's SO good for them.
Fermented foods, and in this case, drinks are a powerhouse. Chock full of probiotics and vitamins and minerals. VERY healing to the gut which is so so important. As it says on the Kombucha bottle.. Health begins at the core. When your gut flora is outta whack, every other thing is outta whack. It effects everything from your skin to your hormones to your immune system and more.

Some of kombucha and water kefir's many benefits include: losing weight by reducing food cravings and adding lotsof essential fiber, lowering bad cholesterol, and improving digestion issues. Lowering the risk of cancer, and improving

metabolic conditions like diabetes. They can improve depression and help with allergies and auto-immune diseases.
Yes, it's true. The taste is an acquired one (Although, who knows? You might like it right off the bat. My grandkids did). The Kombucha tends to be a stronger flavor than the Water Kefir. So I would suggest starting with the Water Kefir.
You can find these drinks at Walmart in the fresh section. At our Walmart, they're only $2.67. And since you only drink a third of the bottle at a time that makes them even more economical.
For myself, I've learned to use a Kombucha Scoby to make my own brew. Super easy. Super tasty. Super duper economical. If you'd like to know more about the process, just send me an email at the addy below. If you're serious about it (and local to this area), I'll even give you a Scoby to get you started. :) you can reach me at:
jordanscrossingherbs@gmail.com
Herbal Friends:
Grave Robbers Essential Oil Blend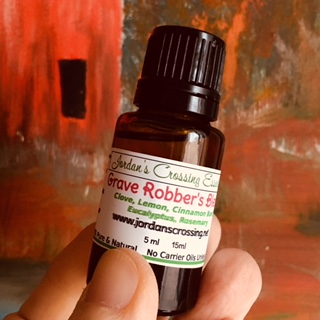 This stuff has been my best friend for the last month! We have 4 grandchildren, all under the age of 6, and they've all had colds or flu as the weather is transitioning from warm to cold.
It's just kinda gross to lend the iPad to the grands and know that the smears on it when they give it back are from the green goopies. Green snot is just ..well.. disgusting. :P
So, I've been doctoring. Cuz I don't want to be sick.
I did have a touch of the flu as I shared last time. But! Only a touch. It never did get super bad. And I've had the edges of a cold. But! Only the edges. Nothing full blown (no pun intended) has surfaced.
I've been faithful to use a drop of Grave Robbers Oil 3-4x a day

behind my ears and on my feet. It really does kick it. And it's not just me. My husband has had the same basic experience lately. He's gotten a couple "almost" colds. Like the start of them for a couple days and he blitzed the GR Oil and it went away. Amazing stuff.
The formula for GR Oil is based on the blend of herbs that some resourceful thieves put to use back in the 1600s. They were grave robbing during The

Plague, and their herbal formula kept them from getting the germs from the dead plague victims graves that they stole from. Kinda morbid, I know, but their blend of herbs worked back then, and it works now too.
Our Grave Robbers Oil Blend contains Cinnamon Bark, Lemon, Clove, Rosemary, and Eucalyptus. Use any of these oils on their own and you won't get the same effect, but put them all together and apply them faithfully and they'll help keep the sickies at bay or if you do get sick, it'll not be near as bad as it could be.
To buy similar oils elsewhere from other more popular companies can cost $45 for half an ounce. Our half ounce (15ml, 300 drops) bottle is $24. Our 5ml (100 drops) bottle is $9. If you're careful to use only a drop at a time, which is all that's needed, it will last a long time. Works well in a diffuser to clean the air of germs also. Or you can use it in a diffuser necklace. The aroma is somewhat medicinal, but not unpleasant.
Works good on children and babies too, but because cinnamon bark and clove are both hot oils we recommend using it only on their feet. We also recommend diluting a drop for younger children with a half teaspoon of coconut oil. It's also good to rotate the places you put it as the effect of the hot oils is accumulative. In other words, the more you put it in the same spot the hotter it will feel each time.
If you're local, you can stop in at the Washington Park Mall on Saturdays and find us at the Bartlesville Artisan Market next to Billy Sims. We're there from 9a-3p. We can also deliver to the Bartlesville area or you can pick it up at our home in Barnsdall. If you'd care for one of those options, you can call Jeff at

918-331-6199

.
Or, you can order online at the link below...
Spiritual Ponderings:T

he Age-Old Question of "Why?"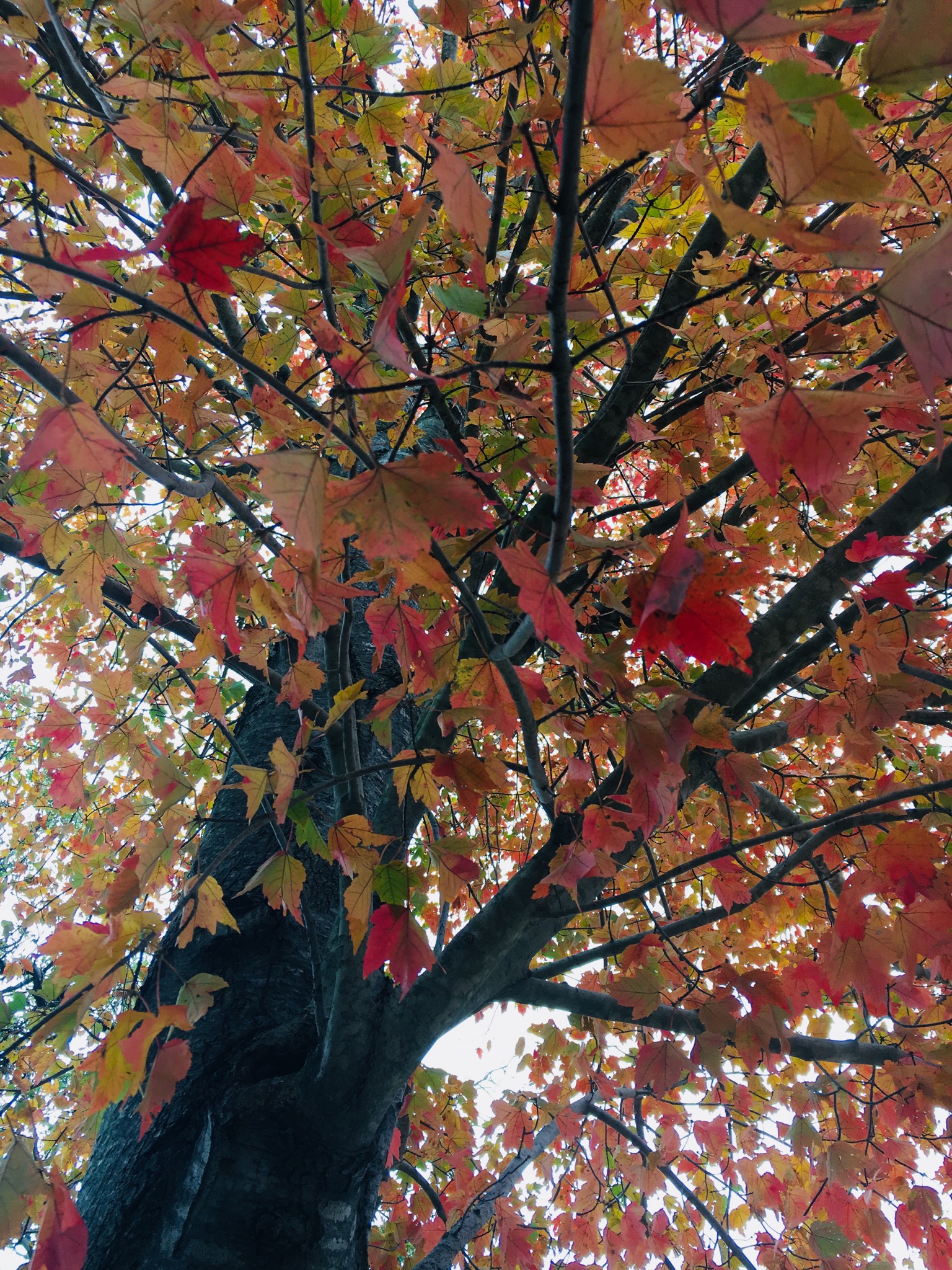 This coming Thanksgiving will mark the 3 year anniversary of my stroke. This time of year always holds a lot of flashbacks and hard memories and even a few tears for me.
People tend to think that somehow because I write a lot about spiritual things, and encourage others to endure and look to Jesus in their difficulties, that I must soar through trials with the greatest of ease. Trust me. I'm very very human. I have all the feelings and emotions that everyone else does. With my stroke there was A LOT of anger, frustration, self-pity, and failure. Over and over. And ..over and over....
The question of why did God let the stroke happen to me has plagued me. Was there a reason he wanted me to be lame, slow, and have to relearn so many things? Disabled for life? Is there some reason he wanted that? Was I so bad that I needed that?
I haven't come to any solid answers on it, to be honest. I do see a lot of things in a lot of directions, but am still unsure in many ways.
But, as I look out my window now, I see Fall all around. And I'm reminded how much beauty there can be in the process of dying. And as the seasons march on through their cycles, so will my life continue marching on. And my Father will be with me each step of the way in whatever may come. Disability and all. Brokenness and all. Failure and all. Just like he's been with me for the last 3 years, and through many other kinds of sufferings long passed.
So, maybe I don't need to have my question of why answered? Maybe all I need to know and rest in is that he's with me and I'm loved by him.. and his wisdom and workings are a million times more than I can possibly comprehend. <3>

3>
You are receiving this email because 1. You subscribed from the web 2. You signed up at an event 3. You ordered from us online. If you'd rather not continue receiving it, then you can unsub below. No hard feelings.

Healthy Healing Digest is published from Barnsdall, Oklahoma 74002
Copyright © Jordan's Crossing 2017
FDA Disclaimer: The statements and products shown in this newsletter have not been evaluated by the US Food and Drug Administration. These products are not intended to diagnose, treat, cure, or prevent any disease. Those seeking treatment for a specific disease should consult a qualified physician prior to use.